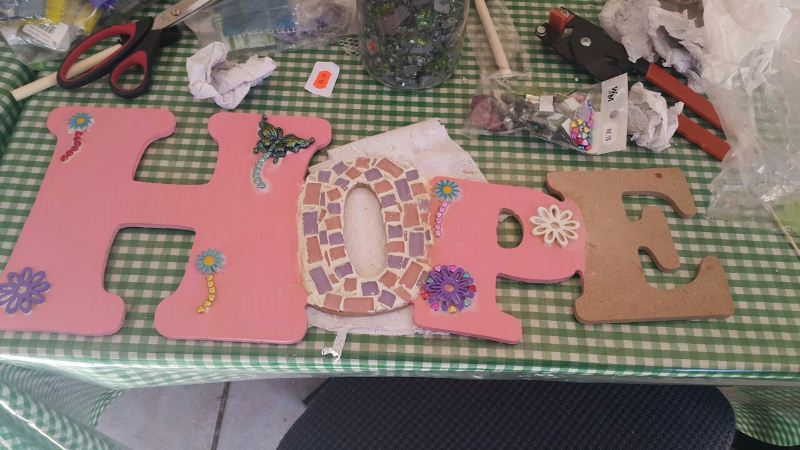 SAFE HOUSE SUPPORT
REPORT FOR 2015/2016 by Annalize Eastes
1. INTRODUCTION
Safe House Support envisions strengthening and supporting Safe Houses registered for Human Trafficking (HT) victims, as well as organisations that work with HT victims.
This is done by:
· equipping them with information and resources,
· encouraging safe house staff and victims of HT,
· providing practical goods such as toiletries, clothing, food, books and equipment,
· skills development with safe house staff and victims of HT,
· networking with supporters, donors and organisations in the counter HT field, and
· debriefing of safe house staff.
2. EQUIP SAFE HOUSES AND ORGANISATIONS
A lot of networking goes into equipping safe houses with information, resources and practical goods.
A few examples for the past year are:
· Monthly visits to Safe Houses, organisations, supporters and donors. This is also done through awareness talks at churches, organisations and schools. During these talks people are made aware of HT and also the practical needs they can get involved with. During these sessions we received numerous donations in the form of toiletries, clothing, food and books.
· On 7 October 2015, for example, LexisNexis gave the NFN care packages to be distributed to the care givers working with HT victims. Care givers are often the forgotten group of people because we tend to focus on victims and not the people working and caring for them on a daily basis.
· These care packages were delivered to 11 Safe Houses/organisations with the assistance of Operation Mobilisation and Ladies Arise.
· During the years donations received from various churches, organisations and individuals were delivered to safe houses. We were able to support safe houses with toiletries, clothing for the summer and winter months, food, linen, gowns, towels, irons and iron boards, kettles and books. In this regard Rotary Bedfordview gave us the opportunity to collect items from their storage facility in Bedfordview.
3. EMPOWER WITH SKILLS AND KNOWLEDGE
What an amazing opportunity this is! This also realised through a lot of networking and consistent visits to safe houses and organisations.
· In 2015 we launched Therapeutic Crafts at one of the safe houses. Though this is part of the skills development programme at most safe houses it was merely done to keep the women busy. But working with your hands and creating with your hands also has a therapeutic and healing benefit. During these sessions women learn to work with their hands and improve hand and eye coordination, they learn to share the resources, do problem-solving and learn to make decisions, just to mention a few benefits.
The Social Worker gets the opportunity to do therapy in a group setting that is more relaxed and open. During these craft sessions we have seen women open up and share who did not open up during regular therapy and group therapy sessions.
This program is thus two-fold, skills development opportunity for the social workers as well as skills development and therapy for the women in the safe houses.
Rotary Anns Randburg came on board early this year with an International grant from Canada for the next six months that will enable us to buy craft product and presenting sessions for 20 women once a month at one of the safe houses. They are hoping to extend this to other safe houses during the year.
Ikaya LeThemba also requested a project proposal to introduce therapeutic crafts at their safe house for the trafficking victims as well as skills development for their social workers.
· One of the safe houses has changed their program from a Phase I to a Phase II safe house. On 29 February 2016 I attended their Advisory Board Meeting to give support for the change and also assist with any new skills that might be needed for this change. The meeting was successful and the safe house started operating as a Phase II safe houses in March. This will mean the HT survivors will leave the safe houses with a job and accommodation. They will have the skills acquired through SETA registered courses, therapy in healing and reintegration, writing a CV, applying for a post and preparation for the interview.
· STOP (Stop Trafficking our People) also initiated a meeting with NFN to gain more information in opening and running a safe house in the Helderberg area in Cape Town. It was an amazing opportunity to share the information we already have and to link them up with the right people that will assist and support them in this huge task.
· With the continuous help of Bedfordview Rotary we will assist the Men's Shelter with much needed resources and renovations at their facility. On 24 February 2016 I've had a successful and informative meeting with their Foundation's Officer at the Men's Shelter. The Rotarians in the Randfontein region will be getting involved in this huge endeavour by applying for an International grant to renovate the existing building at the Shelter as well as another house on the property that will be used to accommodate HT trafficking victims. At this stage trafficking victims are sharing a house with other vulnerable men and this is causing logistical problems as well as problems in counselling.
4. ENCOURAGEMENT THROUGH NETWORKING AND DEBRIEFING
This is such an important part of Safe House Support and often easily overlooked.
During our visits to the safe houses we don't only provide in a practical sense, but we also spend time with the staff, we listen to their stories. We cry with them when they have a woman going back into prostitution and we laugh and celebrate with them in their success stories.
I have seen so many safe house staff on the brink of burn-out or beyond the point of no return. By linking them up with other organisations in their area and also linking them up with each other they can share in their stories and best practices, and they learn that they are not alone.
· During this past year I had monthly debriefing and skills development sessions at Ladies Arise in Pretoria. They are a small organisation that works daily with women in prostitution and HT. With these monthly sessions they have learned the important lesson that they are not alone. They have gained basic life skills that they can now carry over to the women they work with and that will also empower them to do what they do more effectively without burning out.
· This is the same experience for staff at two other safe houses in Gauteng. By talking and sharing their frustrations, failures, sad incidents, best practices and successes they have realised that they do make a difference and that they are not alone in what they do. With this encouragement they can face another day and make a difference.
5. CLOSURE
Financial year 2015/2016 was a year full of challenges and a lot of success stories. For 2016 we would like to grow Safe House Support with more volunteers who can assist with equipping, empowering and encouragement.
The Therapeutic Crafts will continue and grow and the dream is to expand it to more safe houses.
Debriefing and life skills sessions will continue at the safe houses and organisations and will also include the men's shelter this year.