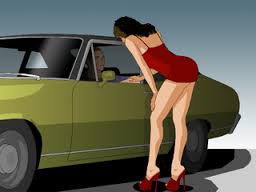 This post is a culmination of recent discussions on various platforms, task team meetings and UNISA's 2014 Public Dialogue on 'Law Enforcement of Counter Trafficking in Persons Under Liberalised Sex Work Conditions' which was attended by Department of Justice (DOJ), National Prosecuting Authority (NPA), Hawks (SAPS), National Rapporteur on Human Trafficking and Sexual Violence Against Children (Kingdom of Netherlands), SWEAT Gauteng, UNISA and the Embassy of the United States of America.
It is well known that the discussion on legal frameworks for prostitution law is a contentious issue with multiple schools of thought and ideologies. It is also a technical one and the different legal framework options explicated in the 2009 SA Law Reform Commission document (SALRC) (Total criminalisation, Partial criminalisation, Non-criminalisation and Regulation) may need some deconstruction for role-players and civil society to understand before a well informed and even handed contribution or opinion can be given.
Irrespective of the decision that will inevitably be made on this issue, it has relevance to the work we are engaged with and interpenetrates with multiple issues including care & support, health, substance abuse, investigations, corruption, law enforcement, organised crime, vulnerability, the issue of 'consent' and the application of legislative instruments we are relying on. We are not sure how many contributed to this conversation, however, many communicated that they are not informed as to the nature and dynamics of this discussion, the implications for their sector(s) and how they can contribute to the discourse.
Marcel van der Watt has enquired from the SALRC and the possibility exists for information sessions to be arranged should there be a need. He is willing to facilitate the process and submit such a request to the SALRC.
Should you consider this to be a need, kindly circulate the call to your relevant networks and return your details (province, organisation, contact person, email, contact number and estimated number of people wishing to attend) by next Friday 16 October 2015 directly to Marcel at and he will consolidate and submit the request.